Collatz Conjecture
The Collatz Conjecture (which was seen in the If Challenge), goes like this:
Take any number n. If n is even, divide it by 2, if n is odd, multiply it by 3 and add 1. Repeat the process indefinitely, and you'll eventually reach 1.
A Collatz sequence is the sequence of number generated from a specific number.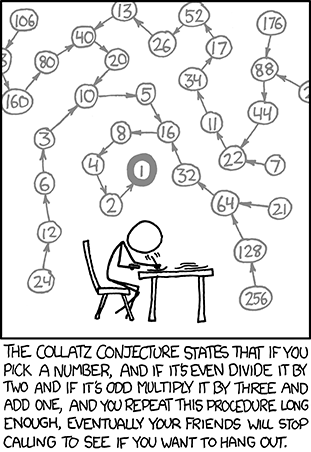 (From XKCD.)
Input/Output Format
Boilerplate code is provided for Java. For other languages, read in the numbers from the standard input in the following format:
The input starts with N, the number of cases.
N lines follow, which each contains 1 integer.
Print out the correct numbers for each case on its own line.
Click on "View Raw I/O" below to view sample input and output.
Given a num variable, can you print all the numbers in num's Collatz sequence until 1 is reached? Print the numbers space-separated (and each test case on its own line).
Please sign in or sign up to submit answers.
Alternatively, you can try out Learneroo before signing up.